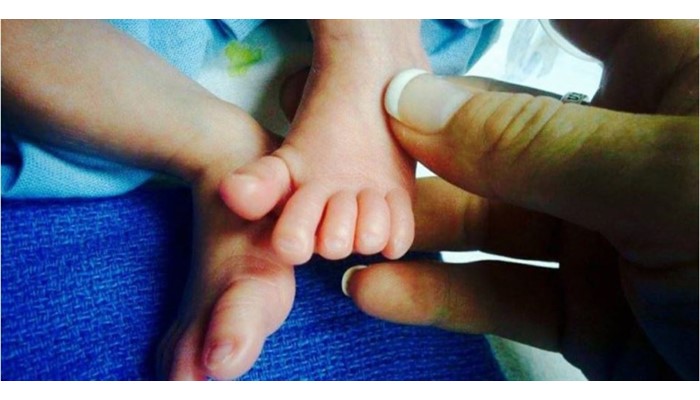 An itty, bitty, baby and a makeshift NICU...

Recently, I had a really rough weekend. The ER was relentless with one patient after another, the Infirmary was jam-packed with sick people, and the OB ward proved to be steadily occupied. And so, Saturday morning it was fitting when Bertha came in to the obstetric ward for a labor evaluation. I grabbed her chart and looked things over. Her dates showed that she was way too early to be having her baby, only a little past 31 weeks of pregnancy (40 is normal, right?). I figured she must be having a few Braxton Hicks contractions (just some warm-up practice contractions). However, a quick exam revealed that her cervix (the opening to her uterus) was dilated. So the bad news was that it appeared she was in early labor with a baby that was going to be very premature. Worse news was that the measurements of the baby appeared even younger than we thought.

Now in the States, a 31 week old baby usually does just fine in the Neonatal Intensive care unit. However, with our limited resources this was going to be a sketchy endeavor if the baby was to come. And if she was actually closer to 29 weeks there was virtually no way this baby was going to live. After some counsel with Drs. Issac and Anne, we started the process of trying to delay the delivery.

Over the course of a full day we pumped her full of medications and prayed for the best. Unfortunately, little by little, she declared that the baby was coming. The cervix kept opening. So, by early Sunday morning we were preparing everyone for the delivery of a very tiny baby that probably wasn't going to survive.

Finally, the baby came and I caught her little 3 pound body and sent her over to Dr. Isaac to resuscitate. And, (Gracias a Dios) the little girl cried. And she kept on breathing. And so, we started a little NICU (neonatal intensive care unit) at Loma de Luz.

She has now been here for almost 3 weeks, accompanied by Bertha who has proven to be an extremely attentive and vigilant mother. However, the care that is required to maintain a baby like this is very labor intensive, and a round-the-clock job. She has required feedings with syringe, bottle and through a tube into her stomach every 1-2 hours. Also, she has required ongoing supplemental oxygen to help support her very immature lungs.

We had a scare in the first week when she stopped breathing and almost died. Luckily, Dr. Peter was nearby and started CPR which resulted in a quick recovery. We surmised that she had aspirated (choked up her stomach contents which then went promptly down into her lungs) and this is what caused her to stop breathing. So, we decreased how much we were putting in there, and how fast, and voila, no more almost dying…

As with almost everything that goes on here, her care has been a group effort with so many contributions. It was quite a relief when Dr. Judy got back from a trip and was able to add her wisdom to little 'Isis Milagro's' care (her middle name means 'Miracle.') Likewise, with her initial care, Dr. Isaac and Anne's experience was crucial. We had a couple short term missionaries arrive last week and they have been spending their days with Milagro and her roommate (a little 2 month old baby boy who has been severely neglected), feeding and caring for them all day long. Many of our long term nurses have also been working harder than expected to care for these two little ones.

Keep them in your prayers, Milagro is actually now taking most of her nutrition from the bottle, so we have a light at the end of the tunnel for her.

Story shared by CHSC missionary physician, Ryan Moultray, who serves with his family in Honduras at Hospital Loma de Luz.
---